The AIA New Orleans is currently redesigning its web presence. We appreciate your patience as we build this website to better serve your needs.
SPONSORSHIP
OPPORTUNITIES
For  additional detailed information about sponsorship opportunities, or to discuss a customized sponsor opportunity to meet your specific needs with AIA New Orleans, please contact AIA New Orleans at info@aianeworleans.org or 504.525.8320.
We thank you sincerely for making this opportunity possible, and we look forward to continuing to grow and educate the public as relates to the built environment.
BREW & 'CUE
Barbecue cookoff and Cornhole Tournament
SATURDAY, JUNE 17
FAUBOURG BREWING Beer Garden
3501 Jourdan Road, New Orleans East
2-6:00 PM
AIA New Orleans' Inaugural BREW & 'CUE will take place Saturday, June 17 at Faubourg Brewing Company (3501 Jourdan Road in New Orleans) from 2-6pm in the beer garden.
Bring the family and enjoy a variety of barbecue, sides, and desserts, and Faubourg beers.
Sign up for tickets and  to compete in our Cornhole Tournament and a chance to win a custom-engraved competition set from @goodwoodnola.
THANKS TO OUR SPONSORS: @adamickarch @goodwoodnola @goatstudionola @jlvconstruction @perrieresquerre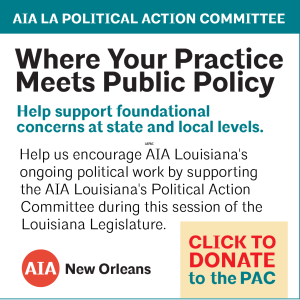 Help us encourage AIA Louisiana's ongoing political work by supporting the AIA Louisiana's Political Action Committee during this session of the Louisiana Legislature. The PAC is an informational organization that educates and informs our representatives about crucial public policy issues related to the state's architecture, planning and construction industries.
2023 AIANO DESIGN AWARDS
Save the Date
Thursday, 13 July
The AIA New Orleans Design Awards celebrates the best of New Orleans architecture, design and the vibrant community that makes them reality.
On the evening of July 13, architects, affiliates, and community members across the city will join us at Generations Hall in the city's Central Business District.  This event has become a staple event for New Orleans' architects and A/E/C industry partners. We expect 350 architects, designers, engineers, contractors and other industry-partners. Sponsoring this event allows you to promote your company, while celebrating great design and networking with the best of the industry.
DESIGN AWARDS 2022
THIS YEAR'S WINNERS
The AIA New Orleans thanks New Orleans' architectural and design community for their participation in the 2022 AIANO Design Awards. Follow this link to see the outstanding work chosen by this year's jury at this year's awards ceremony on July 14th at the New Orleans Contemporary Arts Center.
AIA Center for Design
and Architecture
The Center for Architecture + Design is a learning facility that helps the growth and development of local architects and design professionals while also enlightening the public about New Orleans' unique built environment and its impact on the city.
This conveniently located modern facility offers plenty of open space to turn your event dreams into a reality.  Whether you're hosting a themed reception, a team-building event, a business meeting, or an educational lecture, we're committed to creating a unique experience that inspires and delights.
The American Institute of Architects, New Orleans (AIANO) seeks to promote excellence in the practice of architecture, with a particular focus on sustainability and equity, and to ensure that all in the community value architecture as essential to the quality of life in New Orleans.